Academy
Fridays 6.30pm-8.00pm at Studley Sports Centre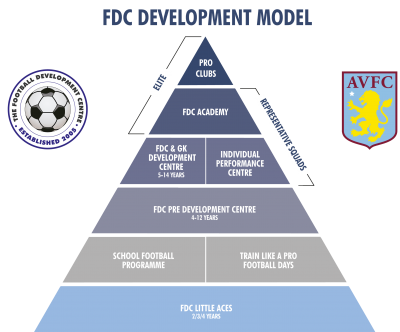 The FDC Academy Centre is a further advancement from the Development Schools and aims to work on more technical aspects of the game.
The Academy is a natural progression from the Development Centre. The Academy trains adjacent to the Development groups and will continue to mirror the FDC Syllabus.
In addition to this, we understand players within the Academy will be at an age where they need more position specific assistance as well as a better tactical awareness.
Sessions are tailored to suit this; with more emphasis on phases of play and positional play.
Within this Level 5 Academy, players are encouraged to take ownership of their sessions and work with the coach to help develop them.
11 – 15 Academy Technical Programme
Ball Mastery
All aspects covered at Development level
Specific weak foot work
Practice play sessions
Forward thinking sessions
S,A,Q Advanced
Correct decision making
Attacking and defending heading
Small sided games
Off the ball movement
Speed Testing (10/20/30 metres)
Agility Testing