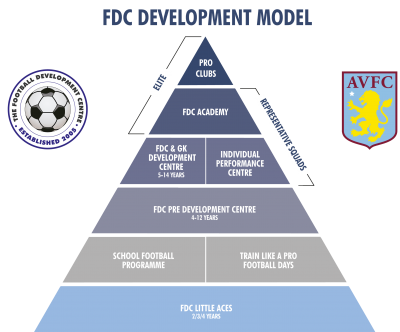 At the Football Development Centre we want to create a real identity across our pyramid. With that in mind, we ensure all sessions deliver our CORE SKILLS
Each player attending the FDC will have knowledge and understanding all OUR CORE SKILLS
These skills will underpin all of our sessions across the PROGRESS PYRAMID to ensure players can easily recognise each skill and will be able to perform them competently.
The skills are constantly checked and coached, opposed and unopposed, to ensure players understand WHEN/WHERE and WHY to use them.
  STOP/START
  DRAG BACK
  CRUYF TURN
  STEP OVER/DOUBLE STEP OVER
  RONALDO CHOP
   ZIDANE FAKE
  ZIDANE SHUFFLE
  STEP OVER TURN
  MESSI L CUT
  FLIP FLAP
  MARADONA 360
   OUTSIDE HOOK
INSIDE HOOK
SCISSORS